World's First Remote Control Self Inflated Vortex Bunkers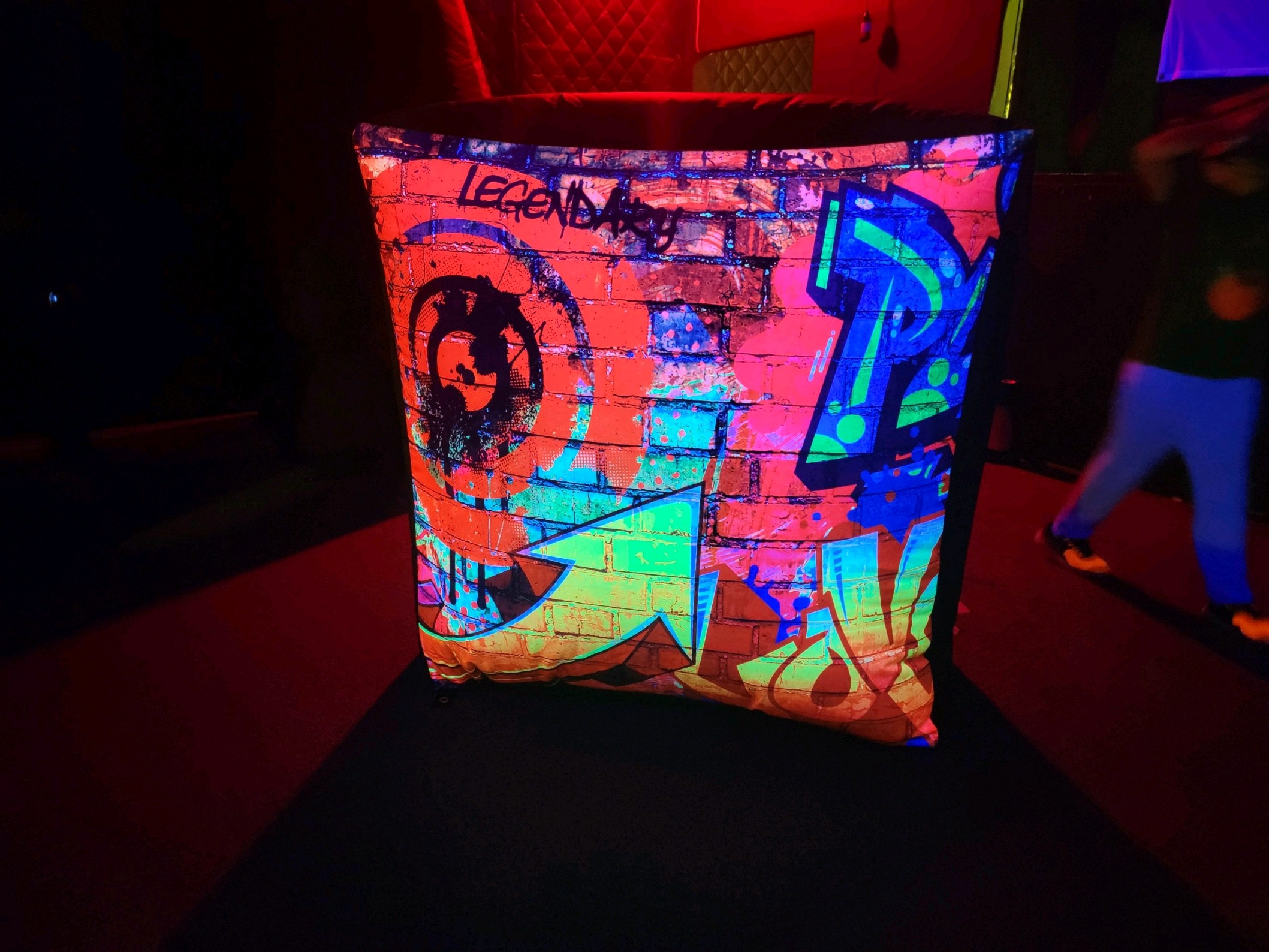 Easy set-up, easy breakdown, balls bounce off rather than break in almost every case…makes reffing a breeze as rub becomes a none issue, they break down and easily fit into totes…all in all, great stuff, they pay for themselves in hours saved washing bunkers.
| | |
| --- | --- |
| Self Inflating | As soon as the battery is connected you can walk away from the bunker. Average 5 man set up is 12 minutes for 2 people. |
| Fabric Bunker | No more worrying about keeping bunkers inflated. Our bunkers do not deflate if there are small holes. Allowing you to patch when convenient for you. No more sagging bunkers. We push 190 cubic feet of air through the bunker per minute. |
| Machine Washable | Remove the fan box and your bunker can be machine washed when necessary. **don't wash too often as each wash will reduce the life of the bunker similar to washing blue jeans. ** We recommend only when heavily soiled. |
| Optional Remote Control | Add a remote to your bunker and just push a button to turn on or off your bunkers. Lengthen battery time and wear. Use your field for private groups, using more paint in a quicker amount of time. |
| Skin Only Option | When shells wear out you can buy less expensive skins or skin variations for your field. No need to buy additional fan boxes. |
| Light weight and Mobile | 2 Bunkers including fan box and vortex weight system can be packed in a 2.5 gallon tote and will weigh approximately 30 pounds. |
The Best In Bunkers
Purchase Vortex Bunkers from the Official Vortex Bunkers Website.  Vortex Bunkers are not Vinyl Bunkers and are an alternative to other brand names.  Let us show you how Vortex Bunkers will save you money and be the only bunker in the world that will pay for itself in labor savings alone.  
Vortex Bunkers Business in a Box
Everything you need to start a new Gel Gun Business is included in this package.  Along with our 9 piece Vortex Bunker Set, you will receive blasters, ammo and commercial grade goggles.  We even throw in an ammo bucket.  Along with our Vortex Stax, you will be setting up and taking down in blazing speeds.
Included in this package for $3499.00 (plus shipping)
9 Piece Bunker Set with a large center bunker, 2 Logs, 6 Mini Temples
9 Fan Systems
9 Batteries
5 Chargers
36 Vortex Stax.  A "must have" for mobile operators.  Weigh down your system without dangerous stakes.  You will truly be multi-surface:  gym floors, grass, artificial turf (indoor and outdoor), carpet, tile, linoleum, asphalt, concrete, tennis courts.
10 Blaster Guns with USB C charging cable
100,000 Gel Rounds
Upgrade your package to include consulting time with Tim and he will get you going as fast as possible with proven tips. 
Perfect for backyard parties, church events, summer camp & after-school clubs, family reunions, and anytime you want kids to have safe, exciting fun. College kids would love a day of gel blasting fun outside the dorm.
Testimonial
Easy set-up, easy breakdown, balls bounce off rather than break in almost every case…makes reffing a breeze as rub becomes a none issue, they break down and easily fit into totes…all in all, great stuff, they pay for themselves in hours saved washing bunkers…
–
Randall N. Fruzza II